One of the best ways to maintain and run a business is to create productive features and have a visionary solution for every problem that comes along with it. To run a hotel, rental business, service-based business, or even consultation based business automate bookings are extremely important and useful for both the businessmen and the clients. Although there are technical challenges in this process, adding productive plugins will help to create a strong position in the online market sector. Many pre-made WordPress hotel booking plugins are more straightforward and don't have any difficult technical settings. These plugins are very affordable for everybody around the world. In this article, you will get to know about the top WordPress hotel booking plugins along with the features of each for you to compare. So, keep reading, and let's find out which plugin is right for you.
The HBook plugin system creates a user-friendly space for the visitors, and it helps to create a well-designed admin interface. Bookings are made based on the available dates shown in the calendar. Upon booking, a detailed breakdown of the price and services offered can be shown to avoid any discrepancies. You can add a booking form that can be customized with an editor to maintain the exact details in an organized order. You can attach accommodation links in different sites along with the booking form to help the visitors with the bookings. With this plugin, you can issue an invoice and send confirmation upon booking; however, email is also sent to confirm the cancellation of orders.
HBook Plugin Key Features:
WooCommerce Hotel Reservation plugin
This WordPress hotel booking plugin helps to automate your website with some basic functionality. It allows you to create a product and then display it to the potential customers. This plugin is optimized to use in hourly or daily bookings; hence, making it ideal to use in rental or appointments websites. Booking can be done through a calendar where the availability of bookings is shown. The customers can book and chose to pay later, for which a temporary booking confirmation email is sent to the customer with the payment link so that the customer can pay later. However, the customer can also pay at the checkout with the available payment methods (PayPal, EFT, and Credit Card).
WooCommerce Hotel Reservation Plugin Key Features:
Hoteleon-Complete Hotel Booking System
This plugin is easy to install and setup so, if you make your booking business website within minutes, just read the instructions and install. The plugin has versatile front-end and backend features, ensuring the database is protected from any SQL injection, protects from external virus attacks, and ensures the password is protected as it uses bycrypt encryption. The plugin is designed and developed to make your website 100% responsive and ensures safety and security from any HTML attacks.
Hoteleon Plugin Key Features:
Hotel Booking - WooCommerce Hotel Booking Plugin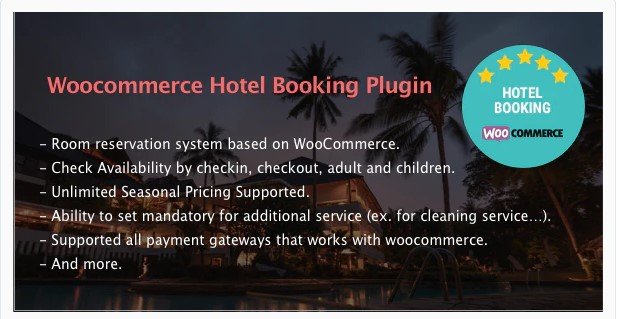 This premium WordPress hotel booking plugin can be used with existing themes and other plugins to book hotel rooms. This plugin supports calendar based booking, which can be easily managed by the admin. Additionally, the plugin is compatible with WooCommerce and allows the customer to pay online with any of the payment medium integrated with WooCommerce. Moreover, with this plugin, you can set custom pricing plans for the rooms available to offer exclusive deals to your customers. For creating additional options on multiple websites, there's a customer statistics file and WPML support for translating your website into different languages.
Hotel Booking Plugin Key Features:
WooCommerce Quick Resort & Hotel Booking Calendar: Plugin
This responsive plugin enables the customers to book using the calendar and allow admins to handle bookings based on the calendar. The webpages, including the booking calendar, can be customized from the admin panel with additional CSS. This plugin allows you to list unlimited products/services and automatically updates the database when a booking is made. Thus, the risk of reserving the same room by two separate individuals is eliminated. The plugin generates shortcode of the calendar page; hence, using the short-code, the calendar can be displayed anytime and anywhere on the webpage.
WooCommerce Quick Resort & Hotel Booking Calendar Key Features:
MotoPress is one of the most popular and well-acquainted WordPress plugins. This WordPress hotel booking plugin deals with unlimited properties as well as a particular or any specific property. The system can handle a large number of requests at the same time. By using this WordPress hotel booking plugin, bookings can be made easier. 
MotoPress Hotel Booking Key Features:
Mini-hotel WordPress hotel booking plugin is where you can look for smaller places for reservation. It is a management of booking the smaller sized guest house, hotels, villas, and similar accommodations. It has an availability calendar so that customers can make the best use of it with their preferable time. 
The plugin offers a range of colors from which you can choose the theme of your website. Besides, it offers hyperlink or button on your website home page with the text "book now," making bookings and navigation easy for the customers. Moreover, the plugin also allows you to add a button for booking to your Facebook page. 
The plugin offers an automated booking search engine, i.e., it allows searches based on different criteria such as date, room size, price, promotional offers, number of persons, and many more. It also provides descriptions and pictures of the places that customers would like to reserve. The plugin is 100% responsive with an embedded Google map API to show the location of your business. The plugin uses a secured API to take payments online with PayPal and Stripe.
Mini-Hotel Booking Key Features:
For reservation and appointment-based business websites, booki is an ideal WordPress hotel booking plugin. It allows unlimited services to be added and has no limitation to the number of bookings the customer can make. Booking is done through Google calendar, and the admin can see and manage the number of bookings at a particular time and day at the backend. A minimum or maximum limit can be set for all bookings or any specific bookings. Moreover, you can set the number of days before which booking can be done; this will eliminate the hassle of overbooking and too many cancellations. 
Booki Booking Plugin Key Features:
WooCommerce Booking & Reservation Plugin
With this advance WordPress hotel booking plugin, you can say goodbye to any sort of mismanagement. The extension provides two types of view – customer view (allows the customer to book based on the availability of dates) and admin view (allows the administration to monitor and handle online bookings). The plugin is 100% compatible with Woo Commerce and will integrate seamlessly with your WordPress website. Moreover, the default design itself is extremely elegant and soothing, and you don't have to ensure the browser compatibility nor the responsiveness aspect of the website as the plugin is 100% responsive and compatible with popular browsers.
WooCommerce Booking & Reservation PluginKey Features:
RnB - WooCommerce Booking & Rental Plugin
If you are a non-techie and want to start a rental business, this is a great plugin for you to use on your website. You can use this WordPress hotel booking plugin for booking or rental businesses like hotels, apartments, dresses, cars, and many more. The duration and type of booking, be it hourly, daily, or even monthly, can be customized as per the demands and needs of the business.
 It has many shortcodes to customize the functionality of the website at the backend. You can block the orders of certain days, adjust pricing as per your wish, see booking on the goggle calendar, sent an email confirmation, and show the payment due. However, the best feature of the plugin is the option to negotiate. The negotiation is done in a few easy steps. Firstly, the customer sends a message with a price; the admin then replies, and the negotiation begins. When the customer and the admin agree to a price, the customer books the product, and a confirmation mail is sent.
RnB - WooCommerce Booking PluginKey Features:
The WordPress hotel booking plugins mentioned are top-rated and have millions of active installations; hence, you should use the plugins in your sites to not only cut down costs of developing such features from scratch but also to add extra functionality. However, while choosing the plugins to automate your business website, many factors such as cost, target audience, type of booking, number of requests to be processed, and available payment gateways should be considered besides the GU. Taking these aspects into consideration, RnB – Woo Commerce Booking & Rental Plugin is the best plugin to use as it can be tailored to meet any business needs and also offers customization of order. However, Hotelon and MotoPress hotel booking plugin can be a great choice as one offers various security to protect data, while the other offers iCal synchronization, which can be great to boost sales from another website. Now that you know the features and the top Word Press hotel booking plugins choose the one that meets your business needs to make ordering/ booking a better experience for your customer.